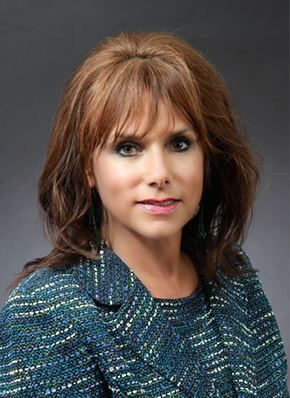 Andra Rush is founder, Chairwoman of the Rush Group of Companies, including Dakkota Integrated Systems, Rush Trucking Corporation and Rush Supply Chain Management.
Rush Group specializes in large-scale component manufacturing, complex assembly and sequencing, supply chain management, logistics and land transportation for global brands, and employs 3,000 team members. It is one of the largest Native American-owned and woman-owned enterprises in the U.S.
Rush's mission is to create profitable and sustainable career opportunities in underrepresented communities across the U.S. and Canada, including Illinois, Kentucky, Michigan, Ohio and Ontario.
In 1984, she borrowed $5,000 from her parents, combined with $3,000 in savings, and used her credit cards to launch Rush Trucking with one van and two pickup trucks. Five years later, Rush Trucking was nominated by the Detroit 3 automakers for Corporation of the Year as an outstanding supplier-partner. Today, Rush Trucking Corporation transports parts for Fortune 50 companies across the U.S. and Canada with 1,100 tractor-trailers.
Rush launched Dakkota Integrated Systems in 2001, providing assembly and sequencing of automotive interiors to original equipment manufacturers, including General Motors, Chrysler and Ford. At Dakkota's 13 locations, she has created good-paying jobs in the U.S. and Canada near tribal reservations for Native peoples.
The Michigan Minority Supplier Development Council recognized Dakkota for its business success and supplier development and diversity programs. Dakkota, which employs more than 2,000 highly trained team members, earned top supplier accolades from Ford in 2007, 2008 and 2009. Ford also recognized Dakkota for Leadership in Diversity in 2011, 2012, 2014 and 2015. Dakkota was named Supplier of the Year for quality and world-class manufacturing by Chrysler in 2013, and Supplier of the Year by General Motors every year from 2013 to 2017.
President Barack Obama acknowledged Rush by name during his 2014 State of the Union address for creating hundreds of manufacturing jobs in Detroit with the June 2012 opening of Detroit Manufacturing Systems – the first such plant opening in the city of Detroit in decades. In the first 36 months of operation, Rush led DMS to $1 billion in annual revenue and 1,000 team members. In 2017, DMS launched a second location, a state-of-the-art facility built from the ground up in Toledo, Ohio, and welcomed nearly 200 new hires. In 2018, she sold her majority stake in DMS after working to ensure the firm's stability and winning customer accolades, including Ford Motor Company's World Excellence Award for Diverse Supplier and Ford Q1 quality endorsement for the Detroit plant.
Rush served consecutive two-year terms from 2013 to 2016 as a member of the U.S. Manufacturing Council, a private sector panel that regularly advises and proposes solutions to the U.S. Commerce Secretary on matters related to government policies and programs and their impact on the U.S. manufacturing sector. She singlehandedly promoted the U.S. Commerce Department's annual observance of Mfg Day in Michigan among middle and high school students, more than doubling manufacturer participation in 2016 and driving the state to first place in the nation for the most Mfg Day events in 2017.
Currently, Rush serves on the board of directors of Terex Corporation and on the Ford Supplier Council. She previously served on supplier advisory boards for Chrysler and General Motors. She also is an active member of business and charitable organizations, especially in her hometown, including Business Leaders for Michigan, Detroit Economic Club, Detroit Workforce Board, Downtown Detroit Partnership, United Way of Michigan and Women Presidents' Organization.
The University of Michigan Ann Arbor alumna was inducted into the Michigan Women's Hall of Fame in 2014 for innovative job creation and manufacturing ingenuity, the Michigan Business Women Hall of Fame and Michigan Minority Business Hall of Fame in 2017, and the international business honor society Beta Gamma Sigma in 2019.